Home...
See also...


Cigar Box Guitar Museum Photos by Ted Crocker from when the collection belonged to Shane Speal. Enjoy!

The Cigar Box Guitar Museum
The Cigar Box Guitar Museum is a collection gathered for the study of an underwritten about topic of cigar box guitars. Ironically, it came from my own experience to combine my favorite instruments into a single perfect guitar that ultimately made me appreciate a cigar box guitar for their simplicity, individual quirks, and imperfections.
Currently with around 100 instruments in the collection and growing, the Cigar Box Guitar Museum will become an online exhibit as well as an eventual public display for folks to inspect, to get inspired from, and to hear. Throughout 2011, I have my work cut out for me promoting the Cigar Box Guitar Museum, writing about each instrument, getting these vintage instruments in the hands of recording artists, and promoting the cigar box guitar as both a way for the novice to learn and for the experienced to shrug off years of convention.
Read more about Detritomusicology here
Buy my book One Man's Trash: A History of the Cigar Box Guitar from Amazon for the first complete historical account of these humble instruments!
---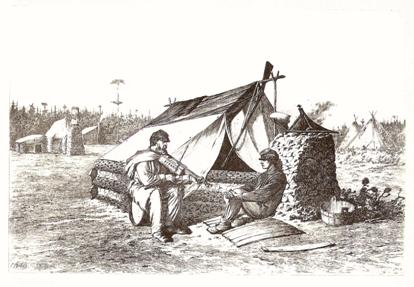 Cigar Box Violins/Fiddles whose artifacts date back as far as the Civil War when Edwin Forbes sketched two Union soldiers entertaining themselves with "Home Sweet Home" being played on a Cigar Box Violin. The sketch (currently located in the Library of Congress) and the later etching dated 1876 along with the two oldest instruments in the collection from 1884 and 1886 are the earliest evidence of these humble instruments. I also have two beautiful examples of WWI one-string fiddles from England, one of which was created by a well known flight commander and illustrator, E. L. Ford, in 1916.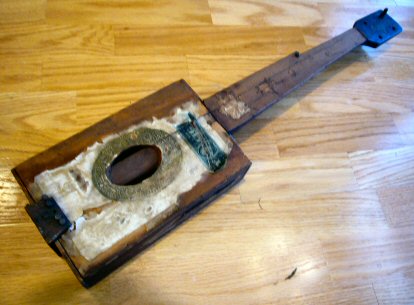 Cigar Box Banjos in the collection go back as far as the first set of plans published by Daniel Carter Beard in 1884. I have an original text of these plans as they were published in "Christmas Eve with Uncle Enos". Those same plans would be published again in Beard's "American Boys Handy Book" which eventually led Beard to found the Boy Scouts. In addition to the 1884 plans, a similar set of original plans from 1886 are also a part of the collection. A very early cigar box banjo based on these plans is a part of the collection. According to Tony Hyman (of the National Cigar Box Museum), the box used dates 1910-1915. Dr. Hyman originally owned this cigar box banjo and sold it to Shane Speal who eventually sold the Cigar Box Guitar Museum to me. Even not knowing exactly who or when the instrument was made, it has quite a provenance just from the recent owners.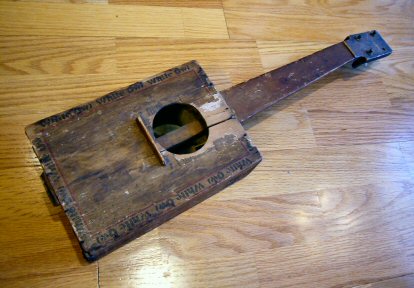 Cigar Box Ukuleles came into fashion around the turn of the century. The Ukulele was "invented", according to legend, by Manuel Nunes in 1879. Sam Kamaka (dubiously) apprenticed under Nunes and soon after created Ukuleles from 12 cigar boxes. (No, I do not own one of these... yet. Sam Kamaka, Jr. has made a few based on his father's design and I am seeking one of these to add to the collection). In the collection, there about 6 examples of cigar box Ukuleles, and vintage plans that date back as far as 1919 that demonstrate how to make one. Ironically, the first mention of a "cigar box guitar" comes from these plans which claims that "the cigar box guitar is a thing of the past"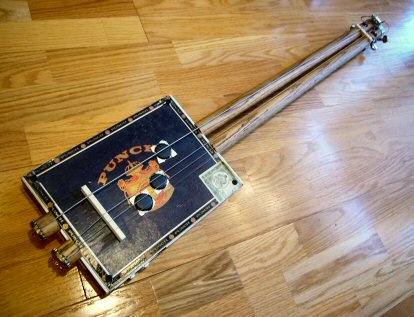 Cigar Box Guitars make up the largest part of the collection, spanning from the 1920's to the present day. Some are toys for children to "play" guitar. Some are serious instruments made when a guitar was wanted, but means prevented their purchase. My favorites in the collection include a 4-string cigar box guitar that belonged to Rick Springfield (complete with supporting documentation and photos), a 4-string Purgatory Hillharp created by John Lowe that uses sewing machine bobbins, beer caps, inner tubes, oak dowels, and pipe clamps to create the most distinctive looking and sounding cigar box guitar today, and a 4-string guitar made by Jim Ferris and Phil Eggers made from scratch complete with hand-wound pickups made with the help of an electric screwdriver.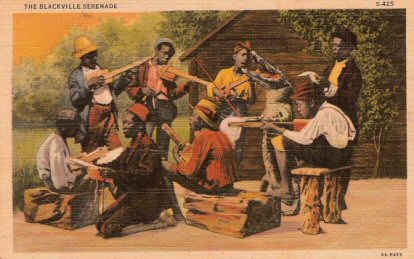 Ephemera for the cigar box guitar include the Civil War etching and the vintage plans that I've already mentioned. Additionally, there are Victorian era real-picture-postcards (racist by today's standards) the show black boys singing and playing a cigar box guitar, Depression era and WWII photographs that show people playing cigar box instruments, and magazines and books from the 1940's through the 1970's with more plans to make cigar box instruments. My favorite text is an original copy of "Creative Music For Children" from 1922 where the cigar box violin and banjo are the focus of teaching music to children. In this book a program for a music recital which states the makers names, their cigar box instruments, and the songs that they played.


---
Stay tuned...