So What Is That Thing?
Sam Ford asks me that question in the pilot episode of Alabama Backroads...
---
What Is A Cigar Box Guitar?
Cigar Box Guitars have a history going back at least as far as the Civil War. While there are some sketchy details of other cigar box instruments before then, it wasn't until a sketch artist for Frank Leslie's Illustrated Newspaper spent two years with the Army of the Potamic that concrete evidence of a cigar box instrument existed. Captured by Edwin Forbes, his famous copper plate etching from 1876 shows the scene of two Union soldiers at camp, the oldest of whom is seen playing a cigar box violin.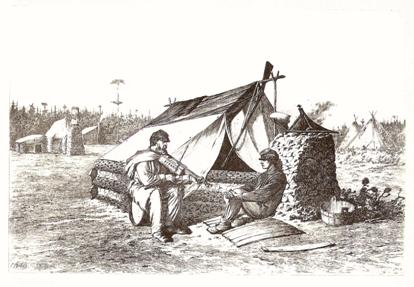 Cigar box instruments tend to follow the same trends in fashion that "normal" instruments do. By 1884, the banjo became en vogue, as evidenced by Daniel Carter Beard's publication of "Christmas Eve With Uncle Enos" where he gives details on how to build a cigar box banjo. Perhaps true to its early forms, the banjo lended itself well to being built out of nearly anything handy laying around. The plans, eventually entitled "How to Build an Uncle Enos Banjo", were published again in 1890 in Beard's immensely popular "The American Boy's Handy Book".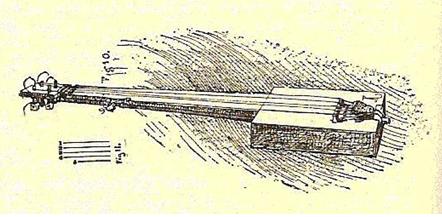 According to his advertisement, Manuel Nunes was the "inventor" of the ukulele in 1879. According to legend, in 1910 Samuel K. Kamaka apprenticed himself to Manuel Nunes and learned the trade. Also according to legend, Sam Kamaka tried to make ukuleles out of twelve cigar boxes. Out of the twelve boxes, Kamaka was able to make seven good ukes.
Celebrating the 125th Anniversary of the ukulele, the Hawaii Post issued a set of stamps on August 23rd 2004. The front cover shows 3 different ukuleles: Kamaka's pineapple ukulele, a standard ukelele and one of the twelve cigar box ukuleles.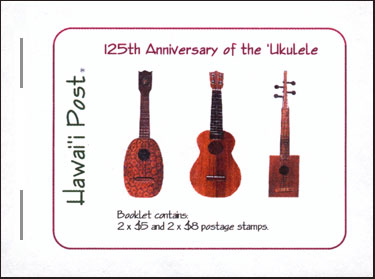 Both the banjo and ukulele remain popular into the early 1900's. Both instruments were popular in Vaudeville, Minstrelsy, and medicine shows. It would take the invention of the radio to bring the guitar to the forefront and to make it the popular instrument that it is today. Ironically, however, the first reference I have found of a cigar box guitar comes from plans to build a cigar box ukulele in 1913 where the cigar box guitar is described as a thing of the past!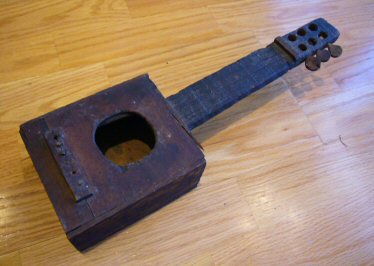 Into the 20th century, there are many one-line mentions of cigar box guitars being made by, or made for, now famous guitar players.While it's common to dismiss cigar box guitars for being primitive, or just toys for children to "play" the guitar, jug band and lumberjack music featured these humble instruments being played for genuine entertainment by adults.
By the mid-20th century, cigar box guitars as a legitimate instrument waned. It wouldn't be until the late-20th century when the internet connected like-minded guitar makers and players to seek out new sounds, something lost by our persuit of the perfect guitar, just intonnation, and meticulous setup. A cigar box guitar releases both makers and players alike to enjoy them for their quirks and imperfections.
---
Suggested Reading
The number of books, magazines, and newspapers that contain interesting and useful information about cigar box guitars is very long. To get you started, here's a list of what I would consider the cream of the crop. Reprints of all but one should be readily available through Amazon or similar online booksellers.
One Man's Trash: A History of the Cigar Box Guitar By me, William J Jehle, which is about my in depth search and discovery to create the first complete historical account of these humble instruments!
Cardboard Folk Instruments To Make And Play, Dennis Waring, Sterling Publishing Co., Inc., New York, 2002. The most comprehensive book with plans to make many simple instruments with carboard and other simple materials.
Creative Music For Children, Satis N. Coleman, GP Putnam's Sons, New York and London, The Knickerbocker Press, 1922. May be difficult to find. Similar to Waring's work, but with much more detail on how simple instruments are used in musical education.
The American Boy's Handy Book, D. C. Beard, Charles Scribner's Sons, New York, 1890. Facsimile copy of the Uncle Enos Banjo and many other projects to keep you in trouble.
Thirty Years After: An Artist's Memoir of the Civil War, Edwin Forbes, Fords Howard & Hulbert, New York, 1890. Forbes memoirs on hearing the cigar box violin, and his description of the materials used to make it.
---
Stay tuned...